About Us
WE ARE ELEMENT KOMBUCHA
We believe that Kombucha continues to be brewed to this day because of it's healthy and refreshing qualities, and that's why our process is based on traditional methods and ingredients. It's made in an effort to guarantee the same benefits that humans have enjoyed for thousands of years – in every bottle of Element Kombucha.
We brew each flavor to strict parameters to bring out benefits of the plants as well as best flavor possible. Element Kombucha is brewed with only the best teas sourced directly from small tea farms.
MEET OUR FOUNDERS, KEVIN & TIMA!
By the time Kevin and Tima met, they'd each discovered the refreshing benefits of Kombucha on their own. Each was brewing his own homemade batches to share with friends and family. Combining their knowledge and passion to brew purely traditional Kombucha was only natural and through that, Element Kombucha was born! ⚡️🙌🏻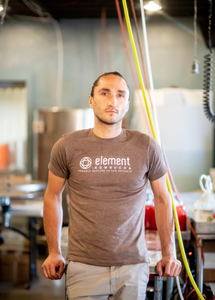 Tima grew up in a tiny isolated village in Russia's Kamchatka peninsula where Kombucha is known as Chaniy Grib – Mushroom Tea. He was about 3 or 4 years old when he had his first sip and was making his own by the age of 6. Some of his fondest childhood memories are of him waiting impatiently for the brew to be ready.⠀⠀
⠀⠀
During his college years Tima made it to NYC through a student exchange program. One day, he went to a natural grocery story and came across a drink named "Kombucha." Curiosity struck, and he bought a bottle and was blown away when he realized that Kombucha was actually Chaniy Grib! ⠀⠀
⠀⠀
He was thrilled to have re-discovered a drink he had such a love for and immediately became an ambassador, constantly talking to people about the many benefits, like the properties for building a healthy digestive system.⠀⠀
⠀⠀
As soon as he moved to San Antonio he met Kevin and immediately realized that he was just as excited about brewing, and sharing this natural elixir.⠀⠀
⠀⠀
Kombucha is all about things coming together, and that includes people. Tima and Kevin developed a strong bond over their enthusiastic purist devotion to Kombucha, and through that began building the foundation of what is now Element Kombucha. 
Kevin's Kombucha story may have began much later than Tima's, but it became a fixture of his life as soon as it did. Out of college, Kevin began a career in video production. This meant a lot of time spent sitting in front of a computer and grabbing lunch at the nearest business which was typically fast food.⠀⠀
⠀⠀
After gaining some weight and realizing he needed a change, Kevin began working out, preparing his own meals and even made a vow to never drink soda again. His quest for a more flavorful and satisfying alternative to soda than water and tea led him to Komchua. A few Kombuchas later and Kevin was officially obsessed and this new obsession, combined with his DIY nature, set him on the path to brew his own Kombucha. After a few failed attempts, Kevin created a brew that he was extremely happy with and soon saw the effects of consistently drinking Kombucha including his annual fight with sinus infections vanishing! ⠀⠀
⠀⠀
When Kevin first met Tima, he was excited to meet another person who was just about as devoted to Kombucha. They both had a strong, purist view of the process and believed that the benefits are only as good as what you put in it.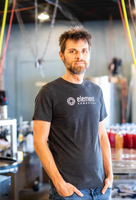 Choosing a selection results in a full page refresh.
Press the space key then arrow keys to make a selection.