At the core of our philosophy lies the belief in harnessing the extraordinary power of plants.
Rooted in the heart of Texas, our mission remains as pure as the exquisite small batches of tea we meticulously create.
United in purpose, we have embarked on a journey to craft 100% RAW kombucha, showcasing premium teas and herbs. We take pride in our kombucha, which is devoid of fruit juice and artificial flavoring, while never compromising on flavor.
May be the best kombucha we've ever had! So glad we found you!

@btgwellco
You're the very first kombucha I taste that's not pungent. I was so delighted! Tried yall at the farmers market a few weeks ago, and immediately bought 2 flavors of each bottle! 

@tvmayramoreno
Soooo gooood!! My allergies are off the charts so I'm going to stock up on your seasonal allergy blend! 

@alicia.put.me.on
GET IN YOUR ELEMENT WITH ELEMENT KOMBUCHA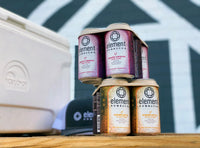 NEW WAYS FOR ELEMENT KOMBUCHA
We are always looking for ways to improve. One of those ways is adding fully recyclable and lighter packaging!
Embrace the freedom to enjoy your energizing kombucha anywhere and everywhere. Whether you're lounging by the pool, embarking on a hiking adventure, camping in the wilderness, hitting the slopes, skydiving, or simply taking a moment of relaxation, our kombucha is the perfect companion. And if you want to spread the love, you can even ship it to a friend and express how much they mean to you!"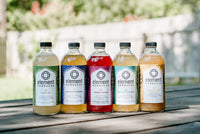 OG Line
These 100% RAW kombucha brews include our "Original" or "OG" flavors that we first brewed to perfection when Element first began. We created the most delicious premium tea blends that are still some of our customers favorite brews to this day.
This line's flavors include our Green Tea, Lavender Spearmint, Mountain Oolong, Ginger Nettle and Jasmine Hibiscus kombucha flavors.
SHOP
Benefit Focused Line
These 100% RAW kombucha brews include very specific premium tea and herb blends that maximize and focus in on one main mission. Each brew is made in order to maximize the strengths of the combined herbs to bring a powerful kombucha with a strong purpose.
This line includes our Breathe Easy, Rose Vitality, Mind and Balance and Summer Vibes kombucha flavors.
SHOP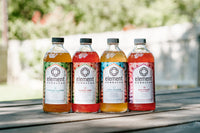 Kombucha is about elements coming together.
Long ago, humanity discovered that the earth's elements can heal and improve our health.
Throughout our existence, we have studied and worked with herbs and minerals to create food that strengthen our survival. Kombucha is one of these discoveries. And as with many age-old cures, the true origin is unknown.
What is known is that for over two thousand years, people in Asia have been consuming Kombucha for it's digestive and immune system-boosting benefits. Kombucha contains b-vitamins, enzymes, probiotics and pre-biotics which bring lots of nourishment to your body, which is why we believe in it so much and are so eager to share its powerful qualities with all of you.